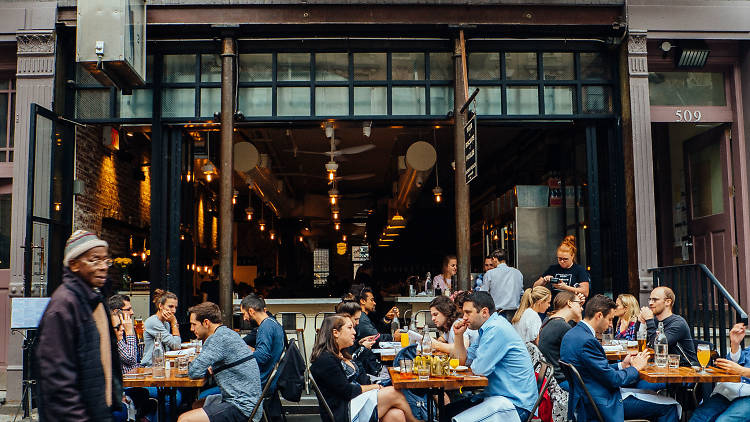 4.3 out of 5 stars (based on 3 reviews)
My personal favorite brunch spot in Manhattan
My personal favorite brunch spot in Manhattan. Every time I come here, it's always filled with glorious gluttony. Portions are huge so it's a great spot for sharing food, and the drinks pair well with pretty much everything on the menu. The wait times can be somewhat long, especially during the summer brunch season, but most of the time you get your table quicker than expected, so instead of popping by another spot further away, stop by Tiki Chick right next door for a fantastic adult beverage and relax while you wait!
Really enjoyed the beef burgers after a long time
Wow! Love love love this place. High energy & great atmosphere & simply fun. It is loud and the music is too loud too. Bad sound system so work on that if you want to play music that loud. Service was excellent & friendly. Food is absolutely delicious & be aware that the portions are HUGE. WORTH EVERY & ALL CALORIES . Outdoors sitting is great but poorly decorated. Highly recommend this spot. I was highly disappointed of the mac cheese. Had no flavor. Maybe it was just ours
Exquisite food
Absolutely solid spot for brunch. Great atmosphere (if you don't like loud music beware). Service was a little slow but we loved everything we ordered. The banana chocolate chip pancakes were perfect. My friends had the biscuit french toast & chicken and pancakes. The only thing that wasn't a stand out was the biscuit special of the day – red velvet chocolate chip. It was a little dry. But definitely will come back!Took a chance on this place and glad we did. Small hole in the wall with tons of flavor. If a busy day of the week, make sure you make a reservation.
Jacob's Pickles is a popular restaurant located in the Upper West Side of New York City, known for their Southern comfort food, homemade pickles, and extensive beer list. The cozy, rustic atmosphere makes it a great spot for brunch or dinner with friends and family.
Attributes
Southern bar & eatery focused on fried chicken biscuit sandwiches, housemade pickles & beers.
Dine-in
Kerbside pickup
Delivery
Contact